POS Terminal Swivels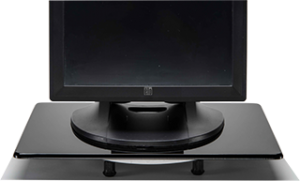 Our 270 degree rotating POS Lazy Susan allows for increased POS terminal functionality and gives your business a competitive edge by processing transactions faster. A rotating POS swivel stand is especially beneficial in environments like restaurants and bars where sharing of a single POS system among employees is necessary.
Eliminate the hassles and frustrations faced while working on a stationary POS terminal stand and start serving your customers in a more timely manner. Order your rotating POS system mount today!
CRC Systems' Rotating POS Swivel Stand:
270 degree rotation left and right for total flexibility
One size: 13×19 black platform can fit receipt printer
Durable construction with high impact surface
Patented design eliminates pull on cabling
$189 each
Call Today! 1-800-864-6572