Save Money on Semiconductor Touchscreen Repair & Avoid Expensive New Replacement Costs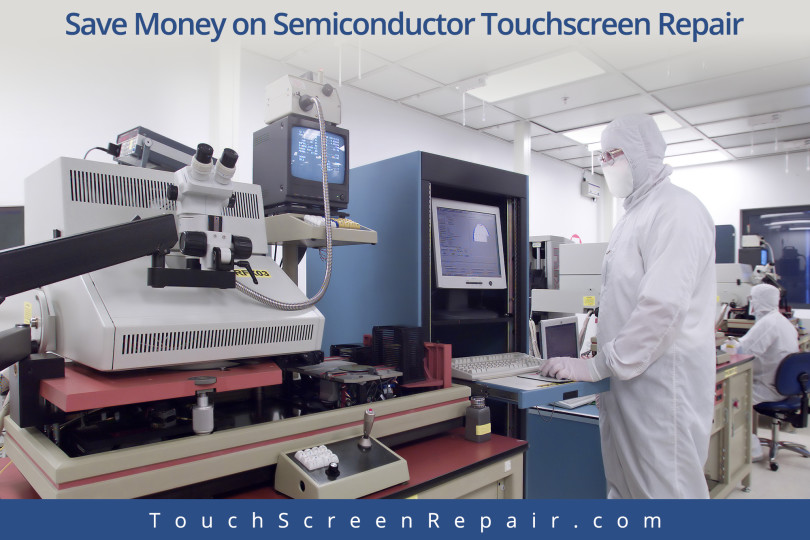 Semiconductor touchscreen repair is one of the most time-sensitive, mission-critical issues for any manufacturing company. Here's what you can do to get quick and reliable touch screen or display service and repair.
We recently shared some DIY tips to prevent a cracked or broken touchscreen, with pointers ranging from fostering a workplace culture of proper use, care and maintenance of your semiconductor touchscreen, to knowing who to call when there is an emergency.
A damaged semiconductor touchscreen or display monitor can shut tools down for an entire production line indefinitely. While prevention is the best medicine, accidents do and will happen. Unplanned tool downtime of any component of a semiconductor tool is a major hit to the bottom line of a fabrication business or semiconductor plant, but it doesn't have to mean bleeding out your bottom line in both production loss AND replacement costs.
Repair or replacement of a mission-critical component like a semiconductor touchscreen or semiconductor display monitor is time-sensitive, so it's important to have a process in place for when a semiconductor display breaks and emergency touch screen repair is needed. Knowing who to call to get fast and reliable semiconductor touch screen repair can be of the highest importance in keeping your assembly line and production up and running. So plan ahead!
As you may have experienced already, manufacturers would prefer to see you completely replace hardware and upgrade your entire system, but you can save money and time repairing your semiconductor touchscreen or display.
Here at CRC Systems, we are a touch screen repair depot. When you call on us for your damaged touch screen, you'll get fast turnaround time, and quality assurance testing!
CRC Systems services and repairs all makes and models of semiconductor displays, monitors, and touch screens, including the service and repair of obsolete and legacy semiconductor equipment. Save time and money: be in direct contact with our repair depot and avoid the needless replacement of an entire system over a damaged semiconductor display or touchscreen.
Call us directly at 1-800-864-6572, and we'll have you quickly on your way with a repaired touchscreen.